Since 2012, companies operating in the personal wellness industry - Nu Skin Enterprises (NYSE:NUS) and Usana Health Sciences (NYSE:USNA) - experienced tumultuous tanking in share price, as notorious activist investors waged their battles. Slugging in the red corner is the famed Bear, Bill Ackman (principal of Pershing Square). Charging in the green corner is the golden bull, Carl Icahn, of Icahn Enterprises (NYSE:IEP). With their history of personal and professional conflicts, these two titans slugged it out in the epic battles for Herbalife Ltd. (NYSE:HLF). Headquartered in the Cayman Islands, the company makes "nutrition products with protein, fiber, and vitamins to enhance and support a healthy and balanced lifestyle."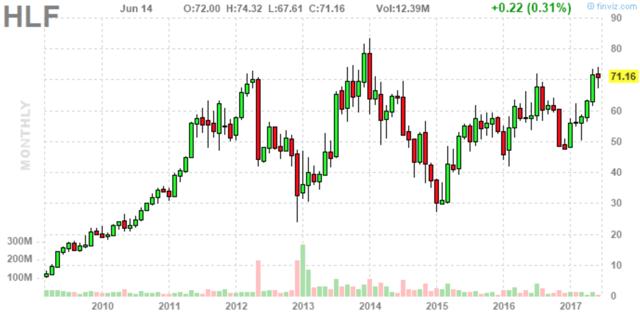 Source: F inviz
Subsequent to the height of investor activism, Herbalife agreed to settle with the Federal Trade Commission ("FTC") in July 2016 for $200M (and committed to enhancing its business practice). Since its share price recession in early 2015, the stock regained its momentum, (and the firm is poised for growth from capturing the obesity pandemic).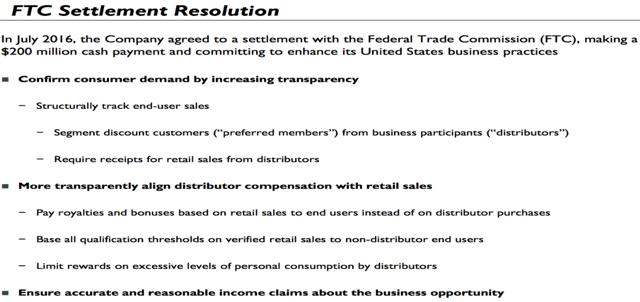 Source: Herbalife
Obesity Pandemic
In our prior research on the drugmakers - Orexigen (NASDAQ:OREX), Arena, and Vivus (NASDAQ:VVUS) - we noted that obesity drugs do not sell because they are not the first-line medical recommendations for weight loss. According to the standard of care, patients who are overweight are first treated with therapeutic lifestyle changes (which include nutrition, diet, and exercise).
Contrary to the obesity drugs that don't generate meaningful sales, nutritional products (supporting weight loss) are in strong demand. And in selling differentiated protein shakes that assist patients in losing weight, Herbalife catapulted itself into one of the global leaders with multi-billion dollars revenues.
As we alluded, the stellar sales of nutritional weight loss are due to its top-line medical recommendation that, in and of itself, targets the weight loss via healthy lifestyles. Furthermore, obesity is a pandemic, thus strengthening the demand for weight reduction. According to research from the National Institute of Health ("NIH"), the percentage of adults considered overweight, obese, or extremely obese in the U.S. had climbed to 75% by 2010 (and are even higher in recent years).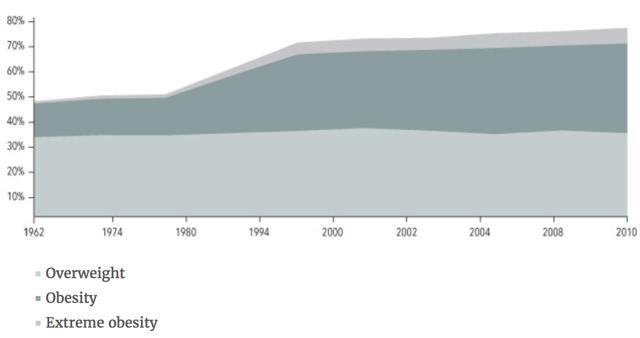 Source: NIH
Similar to the NIH findings, research from the World Health Organization ("WHO") estimated that worldwide obesity has more than doubled since 1980 (with 39% of adults being overweight while 13% are obese). Based on the May 2017 presentation, Herbalife stands to profit from this increasingly vast market that is estimated to generate the annual cumulative sales of $648B. Of note, this does not mean that Herbalife can procure those gargantuan revenues. It just signifies that this market is gigantic. That being said, weight management products now comprised of more than 65% of the firm's total sales (with the top selling product "Healthy Meal Comida Saludable").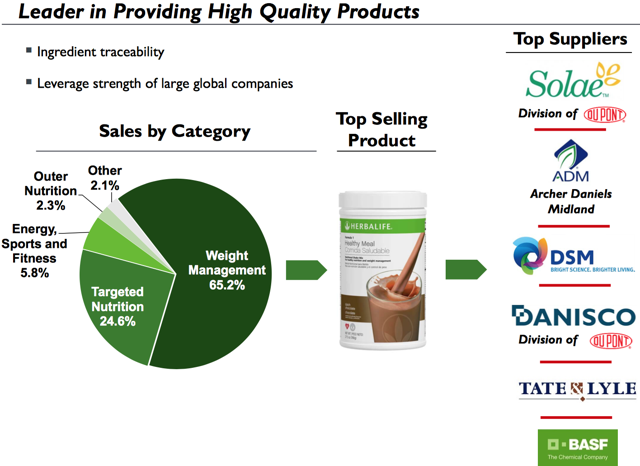 Source: Herbalife
What distinguished Herbalife from other supplement sellers is that the firm has a strong worldwide presence rather than being confined to one geographic barrier, say China. Based on the latest corporate presentation, total sales in China, North America, Mexico, APAC, South/Central America, and EMEA are 19% ($867M), 21% ($940M), 10% ($442M), 20% ($912M), 11% ($484M), and 18% ($827M), respectively. This broad diversification substantially widened the business moat to ensure the sustenance of future sales: the loss of some customers won't affect overall operation. Hence, this diversification enabled significant risk deleveraging for Herbalife.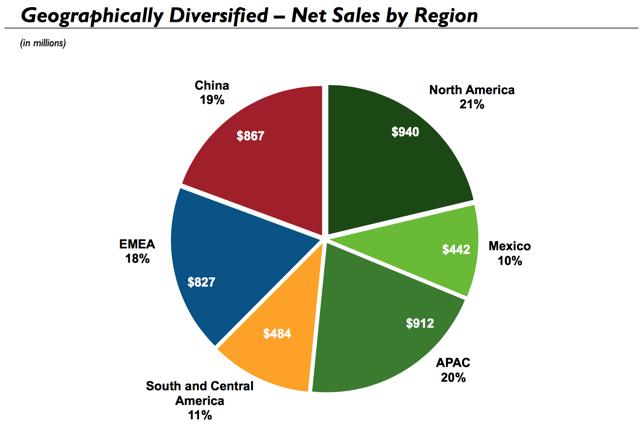 Source: Herbalife
Financial Analysis
For the past decade, Herbalife has been delivering an overall trend of increasing revenues. From Dec. 2007 to 2016, sales increased +100% (from $2.1B to $4.5B). Likewise, earnings were also 36% higher (from $191M to $260M). Of note, there is a slight downtrend in both revenues and earnings for the past two years. And, this was due to the negative publicity as well as the costly legal battles. In the optimistic tune for Herbalife bulls, we expect this trend to reverse (because the company already paid their fine with the FTC and adjusted their business practice to be compliant).

Source: Finbox
Potential Risks
Well diversified and costly battles abated, Herbalife's investing risks are substantially lowered. Nonetheless, there could still be future activist investor campaigns against the firm (that can slice earnings and lower profits margin). Those publicity campaigns can also tarnish the company's brand, thus reducing future sales growth.
Valuation
The world renowned investor, Warren Buffett, stated that valuation can be a subjective exercise: two analysts valuing a firm can come up with completely different figures. Therefore, one should not fixate on the exactitude of equity appraisal, because investing research is an imperfect science. All that being said, let's look at how much Herbalife is truly worth. As Herbalife is generating stable sales and cash flow, we chose Finbox assessment of $80.52 (which has 13.5% upsides). Likewise, the Wall Street analysts valued the firm at $85.25, thus indicating that the firm's true worth to be 20% higher than its market price.

Source: Finbox
Conclusion
Despite previous market turmoil for Herbalife, the Wall Street's drama of bulls vs. bears has lost steam. The firm already paid its dues with the appropriate authority as well as fine-tuned its business practices. Freed from draining legal battles (and bad brand image), net earnings should be higher going forward. In capturing the vast obesity market, the company ensured its future sales growth. So long as Herbalife operates its business with integrity, we expect much fortunes for shareholders ahead. And with both Wall Street analysts as well as Finbox appraising Herbalife as undervalued with significant upsides, this bet can be highly profitable for the medium- to long-term holding.
Author Note: If you enjoy reading our research, be sure to click the follow button for latest insights.
Disclosure: I/we have no positions in any stocks mentioned, and no plans to initiate any positions within the next 72 hours.
I wrote this article myself, and it expresses my own opinions. I am not receiving compensation for it (other than from Seeking Alpha). I have no business relationship with any company whose stock is mentioned in this article.
Editor's Note: This article covers one or more stocks trading at less than $1 per share and/or with less than a $100 million market cap. Please be aware of the risks associated with these stocks.